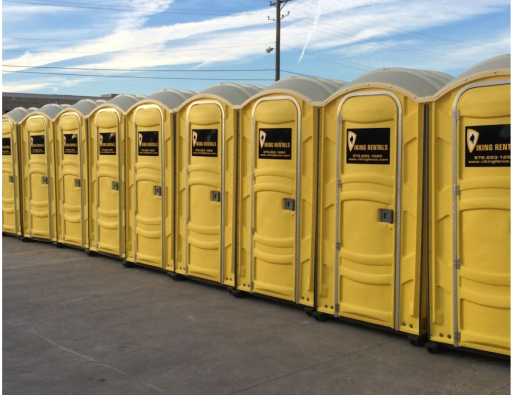 Whether you're getting ready to undertake a lengthy construction project or planning an outdoor event, there is likely a whirlwind of questions and uncertainty on your mind. Perhaps one of these is – how much do porta potties cost to rent?
The logistics of renting porta potties, deciphering the range of porta potty rental prices, and understanding what you're truly getting for your money can be overwhelming.
Add to that the fear of hidden charges or getting a subpar product, and you might find yourself more stressed about the toilets than the event itself!
But, you can take a deep breath and relax – we're going to ease your stress and uncertainty and guide you through this process. Below, you'll uncover the factors influencing the average cost to rent a porty potty along with tips on saving on the typical portable toilet rental cost.
Most importantly, you'll learn why Viking Rentals is the most trusted choice for porta potty rental in Dallas and throughout the great state of Texas. Beyond the immense value we offer in our rentals, you gain world-class support every step of the way.
That being said, let's dive into the main factors influencing porta potty rental prices to set the stage for today's conversation.
Factors Influencing Porta Potty Rental Prices
The portable toilet rental cost isn't just a flat fee pulled out of thin air. Multiple factors play a crucial role in determining porta potty rental prices. Having a solid grasp of these factors can empower you to make an informed decision, ensuring that you get the best value for your money.
Type and Size of the Porta Potty
Not all porta potties are created equal. Just as with homes or vehicles, there's a wide spectrum, from basic models to luxury versions.
The standard single-stall unit is the most common and typically the most budget-friendly.
However, if you're looking for something more upscale, like a restroom trailer with running water and climate control, be prepared to allocate a bigger budget.
Additionally, larger units, suitable for family or ADA accessibility, can also come with a higher rental price.
You can explore our vast catalog here at Viking Rentals to get a sense of just how many different options you have at your fingertips. But, the portable toilet itself is just one piece of the pricing puzzle.
Duration of the Rental
It might seem obvious, but the longer you need to rent the unit, the more it'll cost. However, most providers (ourselves included) offer discounted rates for extended rental periods.
So, if you're in for a long-term project or event, it's beneficial to discuss duration upfront to capitalize on any potential savings.
Location and Delivery Charges
The distance between the rental company and your event or project site can significantly influence the cost.
While some companies might offer free delivery within a specific radius, charges might apply if your site is further away. It's not just about the but also the time, manpower, and logistics that go into ensuring timely and safe delivery and setup.
Additional Amenities and Features
Want a unit with a flushing toilet, interior lighting, or even a handwashing station? These added amenities enhance the user experience but can also affect the rental price. It's about balancing the comfort of your guests or workers with the budget you've set aside for sanitation facilities.
For those looking to wow wedding guests or corporate event attendees, it's worth splurging on a more sophisticated unit. But let's face it – your construction workers just need the bare necessities.
Maintenance and Cleaning Costs
Regular maintenance and cleaning are essential to keep the porta potties in hygienic condition especially for longer rental durations.
Some companies might include this service within the rental cost, while others may charge extra. Ensuring that the units remain clean isn't just about user comfort – it's about health and safety.
Understanding these factors isn't about nitpicking pennies. It's about ensuring you get what you pay for and knowing where your money is going. So, how much do porta potties cost to rent?
So, How Much Do Porta Potties Cost to Rent?
It's time we helped you set your expectations for what you can expect to pay when renting a porta potty. So, how much does it cost to rent a porta potty?
We'll look at the average cost to rent a porta potty below followed by our specific portable toilet rental cost at Viking Rentals. That being said, there is really only one way to get an accurate porta potty rental price: reach out and request a quote!
Average Cost to Rent a Porta Potty
Standard units typically range from $50 to $475 weekly, while ADA-compliant ones sit between $100 and $700. If you're eyeing deluxe units with extra features, expect to pay from $100 up to $850 a week.
The luxurious two-stall trailers are the priciest, often costing between $325 and $5,350 for a week. Monthly rentals can stretch from $50 for standard units up to $7,200 for high-end trailers.
Do note, prices might vary based on region and demand, but in Texas, you'll often find them more competitive than in big cities. Speaking of which, let's take a look at our offerings at Viking Rentals.
Our Portable Toilet Rental Costs at Viking Rentals
Standard Portable Toilets: Viking Rentals takes pride in providing cost-effective solutions without skimping on quality. Our standard units are impeccably clean, well-maintained, and perfect for a wide range of events or construction sites. They're the most economical choice, giving you top value for your money.
Deluxe or VIP Portable Toilets: Elevate the restroom experience with our Deluxe and VIP portable restrooms. These units are a step above, boasting advanced features like flushable toilets and handwashing stations. They're great for events where you want to offer a little more luxury to your guests, without breaking the bank.
Portable Restroom Trailers: For those special occasions where comfort is paramount, our towable porta potty trailers are the ideal pick. These units provide a touch of elegance, featuring multiple stalls, vanities, and climate control. Perfect for upscale events, weddings, or corporate functions, these trailers ensure your guests experience the utmost convenience.
ADA-Compliant Porta Potties: Inclusivity is at the heart of what we do. That's why Viking Rentals offers ADA-compliant toilet rental designed specifically for ease of use and accessibility. These spacious units ensure everyone, regardless of physical ability, has a comfortable and safe restroom experience.
High Rise Porta Potties: These are indispensable for construction sites, especially those in urban areas where space is limited. These high-rise porta potty units are designed to be easily lifted by crane or elevator for use in multi-story buildings. Their compact size doesn't compromise on the essentials, ensuring workers have timely access to sanitary facilities, regardless of their location on site.
Hidden Porta Potty Rental Costs and Charges You Should Be Aware Of
Hopefully, you have more clarity on porta potty rental costs. But before we go any further we want to talk about a few hidden costs some companies may try to sneak in.
Fortunately, you won't have to worry about these when you partner with a transparent partner like Viking Rentals. Nevertheless, it's good to consider these as part of the porta potty rental prices conversation.
Overuse or Damage Charges
A porta potty is built to handle a set amount of use between service intervals. If your event has more attendees than expected, or if it's used more frequently, it might reach its capacity before the rental period ends.
Damages can also lead to additional charges. Ensure you rent an adequate number of units for the size of your gathering and communicate any potential changes in attendance or duration.
Extended Rental Periods
While this might sound obvious, extending the rental period beyond the agreed-upon time can incur extra costs.
Sometimes, projects run longer than anticipated, or events have unexpected delays. It's always more cost-effective to anticipate these extensions beforehand rather than dealing with last-minute changes.
Emergency Service Fees
Nobody likes to think about emergencies, but they can and do happen. Whether it's an unexpected blockage, a sudden need for additional cleaning, or any other unforeseen issue, emergency services can come at a premium.
It's essential to be aware of these potential charges and to familiarize yourself with the service terms of your rental agreement.
Tips for Saving on the Portable Toilet Rental Cost
When organizing an event or managing a construction project, every dollar saved can make a significant difference. With a little foresight and strategic planning, you can get the best bang for your buck without compromising on quality or convenience.
Booking in Advance
Like with many services, early birds often get the best deals. By planning your needs well in advance and making your booking, you can avoid last-minute price surges and ensure availability, especially during peak seasons.
Renting in Bulk
Got a large event or a significant construction project? It's often more cost-effective to rent multiple units at once. We often provide discounts for bulk orders, ensuring you get more value for your money.
Off-Peak Season Discounts
Just like the travel industry, the porta potty rental business has its busy and slow seasons. If your dates are flexible, consider scheduling during off-peak times.
Not only are you likely to get a discount, but you'll also have a broader selection of units to choose from. You may not have control over when you hold your event or begin your project, but this is worth keeping in mind.
Choosing the Right Unit for Your Needs
It's tempting to opt for the most luxurious porta potty available, but do you really need all those bells and whistles?
By assessing the real needs of your event or project and matching them with the appropriate unit, you can avoid unnecessary costs. For instance, a simple construction site might not require a deluxe model with extra amenities.
Finding the Right Rental Partner
All rental companies are not created equal. Some might lure you in with low base prices but have a plethora of hidden charges.
Others, like Viking Rentals, prioritize transparent pricing and top-tier service. Partnering with a reputable company can save you money and potential headaches in the long run.
That being said, it's time you reached out to request a quote on our porta potty rental prices so you can get the best value!
Get the Best Value on Porta Potty Rental Prices at Viking Rental in Texas!
Our reputation is built on a foundation of trust, commitment, and an unwavering dedication to our customers. We've prioritized what matters most over the years: understanding the needs of our clientele, providing prompt customer support, and ensuring every interaction is marked with the hallmark of excellence.
When you put your trust in us you can rest assured your event's sanitation needs will run smoothly. You're not just paying for a porta potty – you're investing in peace of mind.
But our stellar service doesn't stop with just our brand values. We believe in offering unbeatable value without compromising quality. Our competitive pricing ensures you get premium services without the premium price tag.
And while you already know our Dallas rental service is as good as it gets, you may not realize that we serve all major Texas cities. You can count on us for porta potties rental in Austin, porta potties rental in Houston, and porta potties rental in Fort Worth.
So, what are you waiting for? Now that you know how much to rent a porta potty it's time to request a quote and wrap up this conversation on porta potty rental prices.
Final Thoughts on How Much to Rent a Porta Potty
Navigating the world of portable toilet rental costs can be complex, with pricing influenced by various factors, from the type of unit to unforeseen charges.
But armed with the insights from this conversation on porta-potty rental prices, you can make cost-effective choices that align with your needs.
Always remember that while price is important, value is paramount. And when it comes to unbeatable value combined with exceptional service in Texas, Viking Rentals stands as the premier choice.
Choose wisely, and ensure your sanitation solutions are both affordable and top-tier with our help!