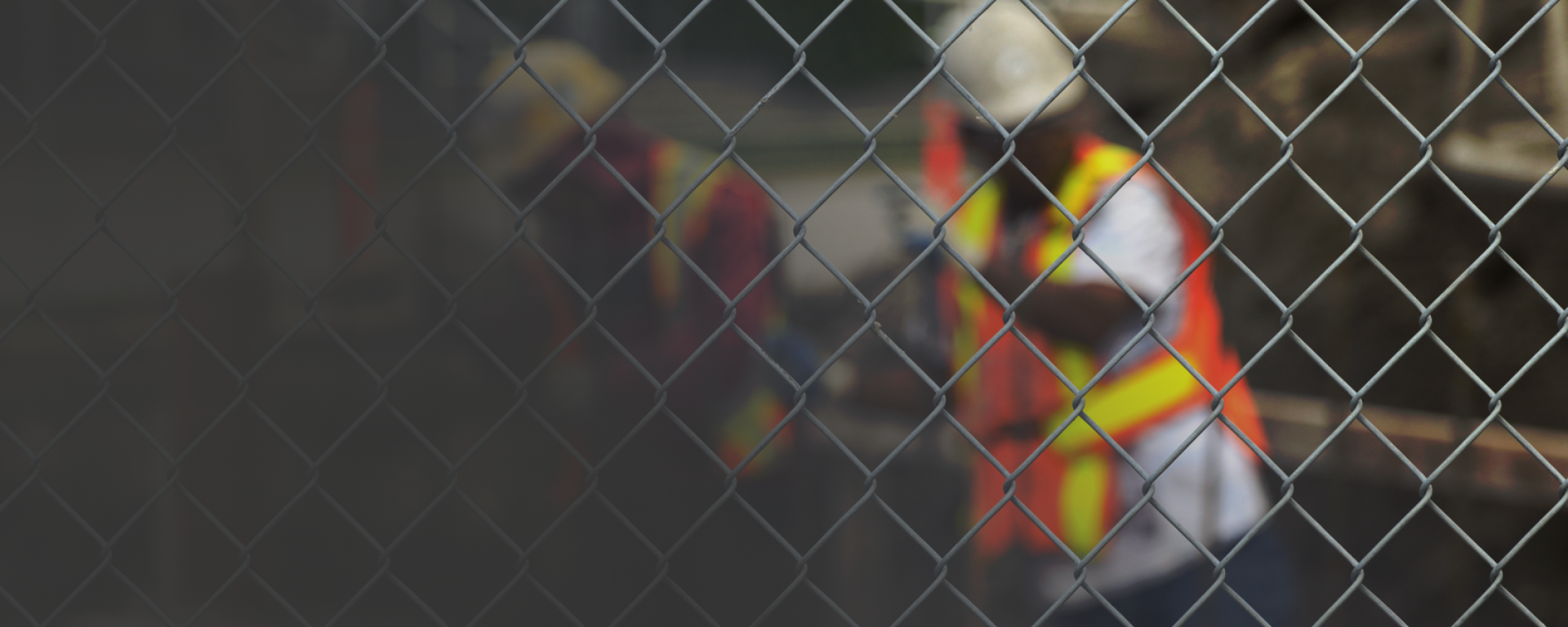 Viking Rentals
Temporary Swing Gates – Houston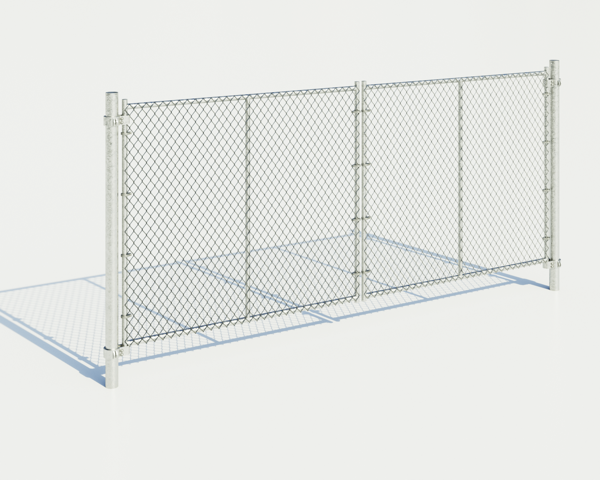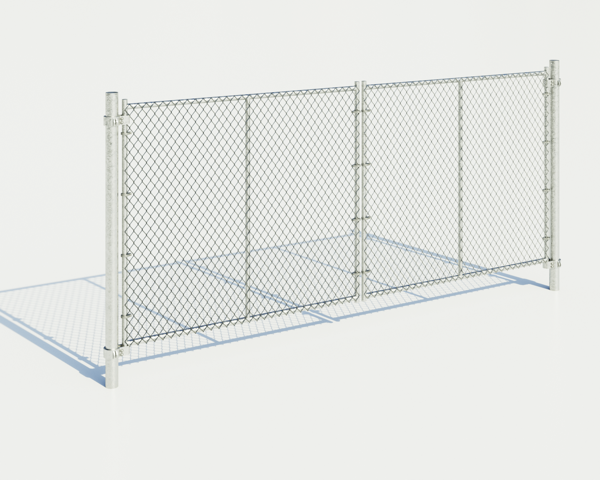 Temporary Swing Gates
When managing a bustling event or overseeing a construction site, controlling access is key to keeping everything running smoothly. You need a solution that provides efficient access control while ensuring the security of your site. Our temporary swing gates rental in Houston, TX is the most convenient, affordable approach to this. Enjoy peace of mind by getting your site secured today.
Accessing Events or Construction Sites is Made Easy With our Temporary Swing Gates Rental in Houston, TX!
When managing a construction project or hosting an event, access control is critical. Whether it's for security, crowd management, or simply directing foot or vehicle traffic, having a reliable and efficient entrance and exit point is crucial.
You need a solution that combines durability with convenience. At Viking Rentals, we understand these challenges and are here to offer the perfect solution – our Temporary Swing Gates.
With Viking Rentals on your side, you can focus on what you do best, knowing that the access points to your site are in expert hands. With decades of experience in business, you can rest assured you're making the right choice when you partner with us.
Why Partner With Viking Rentals for Your Project or Event?
Every project or event is unique, and so are your needs. Our temporary swing gates come in various heights and widths, ensuring that no matter the requirements, we have the right gate for you. From pedestrian access to heavy equipment, our gates can handle it all. Plus, they can be installed at any point along the fence for ultimate flexibility.
Security is often a primary concern – and for a good reason. Unauthorized access can pose risks ranging from theft to liability issues. Our temporary swing gates are sturdy and durable, providing a solid barrier against unwanted entry. You can trust that with Viking Rentals, your site will be protected.
Plus, they're convenient. With options for single and double swing gates, you can create access points up to 30 feet across. This wide span makes it easy for vehicles, equipment, and large groups to enter and exit without bottlenecks or delays. And if you have a smaller access point, we also offer pedestrian swing gates up to four feet wide.
At Viking Rentals, our commitment goes beyond providing excellent products. We pride ourselves on our exceptional customer service and expertise in the industry. We're not just a rental company – we're your partners in ensuring your project or event runs smoothly.
We'll work with you to assess your needs and recommend the best solutions. And with our dedicated support, you can be assured of quick responses and efficient service every step of the way.
If you're looking for the other popular type of temporary fence gates rental in Houston – slide gates – we've got you covered there as well. After all, Viking Rentals is your trusted provider of all things temporary fence rental in Houston!
Get Your Temporary Swing Gates Rental in Houston, TX Set Up Today to Enjoy Peace of Mind!
Don't leave the access points of your event or construction site to chance. With Viking Rentals' Temporary Swing Gates, you get a reliable, versatile, and secure solution that fits your specific needs. Our dedicated team is ready to help you set up your rental, ensuring a hassle-free process from start to finish.
We can get your entire perimeter squared away with our barbed wire fence rental, temporary chain link fence rental, event barricade rentals, temporary fence panels rental, and everything else you could need – including portable sanitation rentals.
So, reach out to Viking Rentals today and experience the peace of mind that comes with knowing your access points are handled by experts. We'll help you make your project or event a success!
Of the two types of temporary gates, swing gates are more popular. They are ideal for pedestrian access, as well as for access points for small and heavy equipment, vehicles and trucks, and emergency vehicles too. These temporary gates come in different heights and widths and they can be installed at any point along the fence. Given that they can be configured either as single or double swing gates, they are ideal for use at the main access point.
Single swing gates can span 12-15 feet across, while double swing gates can offer access points of between 24 and 30 feet across. Pedestrian swing gates of up to four feet are also available. Ordinarily, swing gates open inward toward the property, except for cases in which this is not possible.
Most VIP restrooms also feature interior incandescent lighting, weatherproof carpeting, a mirror and high-quality paper products to improve the guest experience. The door locks securely and the "In Use" light turns on when the restroom is occupied. These portable restrooms also help avoid fumbling for light switches with switch-mat lighting activation.
Sliding gates only need a small space in which to operate, making them ideal for tight spaces such as one near a permanent structure, a road, or a property line. They work by running parallel to and overlapping the temporary fence panel space. For a temporary slide gate to work efficiently, the area around it must be level for free movement of the gate.
Our Products in Action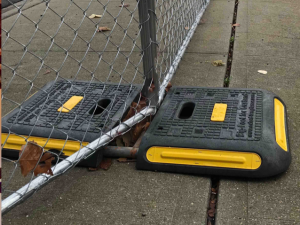 Recommended Products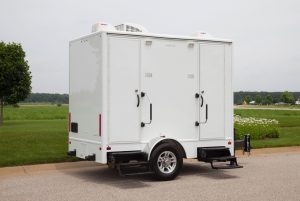 Restroom Trailers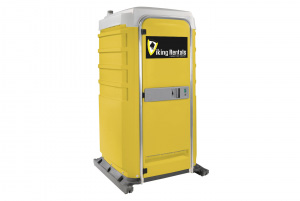 Portable Toilets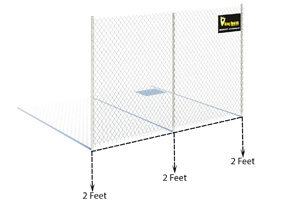 In-Ground Chain Link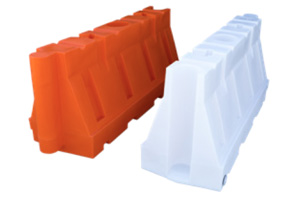 Water Barricades