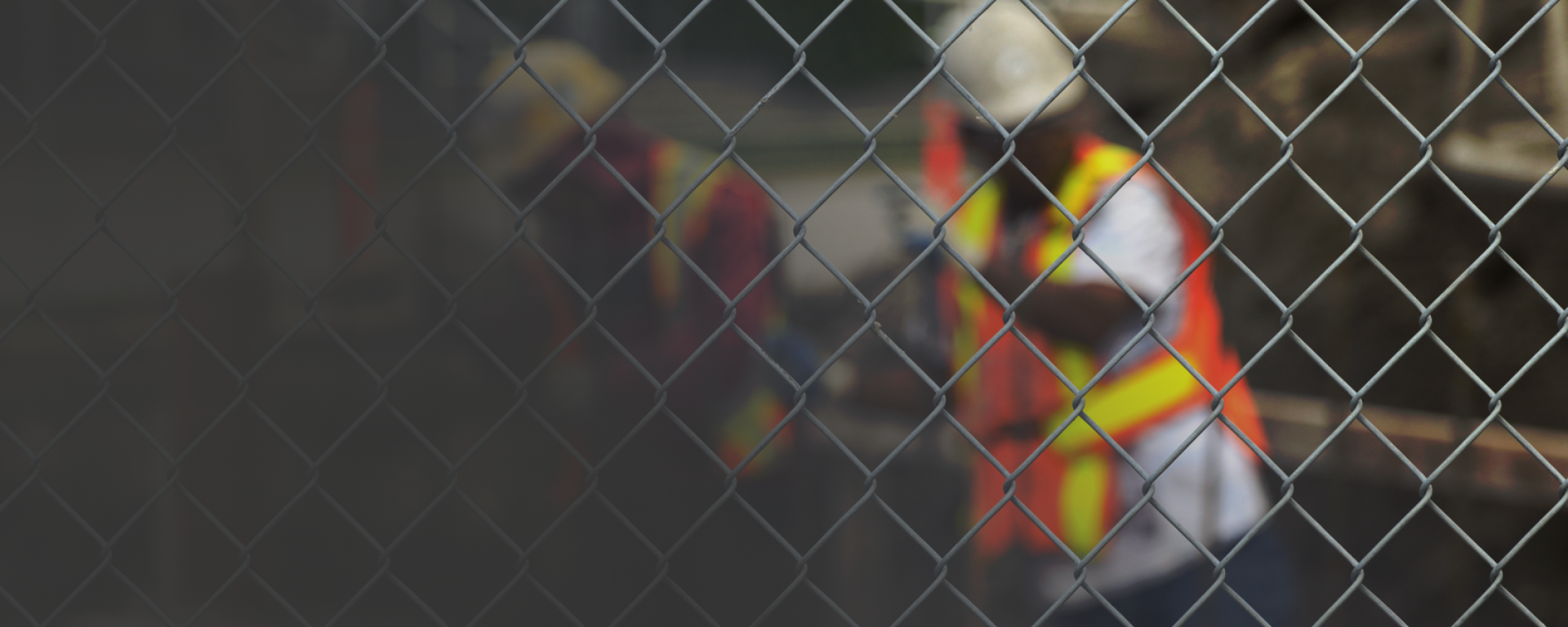 Viking Rentals
Bathroom Trailer Rentals – Austin
Whether you're hosting a large outdoor wedding or an important corporate function, you want every detail of your event to be perfect. One often overlooked aspect of event planning is providing adequate, comfortable restroom facilities. But you don't need to stress about this consideration any longer. Our bathroom trailer rentals in Austin offer a quality sanitation experience. Your guests will thank you!
Offer a Quality Sanitation Experience With Our Bathroom Trailer Rentals in Austin!
There's nothing quite as stressful as being in charge of planning an event. Even if you do this for a living, you may feel more and more anxiety as the date looms closer and things are still not checked off your to-do list. Perhaps you still haven't figured out the bathroom situation.
While it's easy to overlook this and go with the standard porta potties rental, these are better suited for job sites or large-scale events. When planning something more intimate – like a wedding, party, or corporate event, you need something more upscale.
After all, the last thing you want is to hear people complaining about what you've chosen – it can leave a negative lasting impression. Fortunately, this is something you can avoid entirely by choosing our bathroom trailer rentals in Austin.
These are sophisticated, functional solutions that will have your guests eager for their next bathroom break. With a touch of class and elegance, this simple investment can transform your event in ways you never imagined.
What Makes Viking Rentals the #1 Choice for Portable Restroom Trailer Rentals in Austin?
Choosing Viking Rentals for your portable restroom trailer rentals in Austin goes beyond simply hiring a sanitation solution – it's about delivering an exceptional experience for your guests.
We've spent the better part of 40 years perfecting our offerings and service to provide the best possible experience for our clients. Our commitment to our clients is uncompromising. We ensure prompt delivery, professional setup, and exceptional maintenance throughout your rental period.
What's more, we believe in delivering exceptional value, and our competitive pricing reflects this belief. And, despite our affordable prices, the quality of our portable restroom trailer rentals is unparalleled. This is true of both styles we offer:
2-Unit Restroom Trailer – The Selfie: The perfect choice for intimate events, The Selfie is equipped with two private bathrooms, each featuring a flushing toilet, sink, countertop, mirror, and ambient lighting. It's designed to serve up to 150 people comfortably.
4-Unit Restroom Trailer – The Millennium: For larger events, The Millennium provides four spacious restrooms, offering the capacity to comfortably serve up to 350 guests. The interior design exudes a sense of quality, offering your guests a surprising level of comfort and beauty.
Not sure which of these is right for you? Want to learn more about some of the unique features our portable bathroom trailer rentals in Austin have to offer? Get in touch today – you won't regret it!
Set Up Your Bathroom Trailer Rentals in Austin and Give Your Guests the Experience They Deserve!
If you decide that you can't justify portable restroom trailer rentals in Austin, don't sweat it. We have all your other portable sanitation rentals in Austin covered – with more budget-friendly options like our towable porta potty rental. We also offer ADA portable toilets, VIP solar restrooms rental, high rise portable toilets rental, and portable hand wash station rental.
Don't neglect the little details that tie your event together. Allow your guests to experience the comfort, convenience, and quality that our restroom trailers can offer. Reach out today by giving us a call or requesting a quote on this page!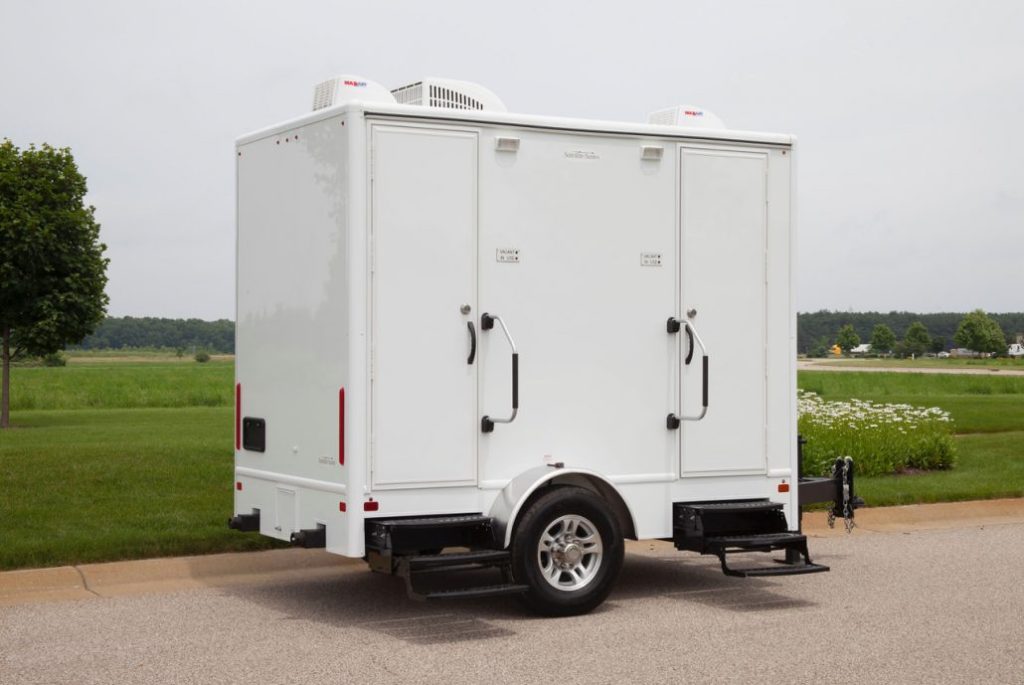 2-Unit Restroom Trailer – The Selfie
The go-anywhere, do-anything Selfie from Viking Rentals is designed for those who want "their own space". A place to get away from the crowd and freshen up…in private.
The Selfie has two private bathrooms, each with a flushing toilet, sink, counter top, mirror and bright, ambient lighting. It's ideal for parties up to 150 people and can operate all day with fully recharged batteries and a full fresh water tank.
---
4-Unit Restroom Trailer – The Millennium
This spacious 4-Station restroom trailer has a delightful interior and enough capacity to provide up to 350 guests a true first-class experience.
Stepping inside this Viking Rentals Millennium trailer will provide users with an unexpected level of comfort and beauty. The rich wood, and complimentary textured walls and floor create an upscale appearance that is also very durable and easy-to-maintain. The trailer is a non-wood structure that is lightweight and moisture proof, eliminating the threat of unwanted odors, mold and possible extensive rotting.
Many features on Viking Rentals portable toilet trailers will surprise you. They are common sense features with uncommon durability.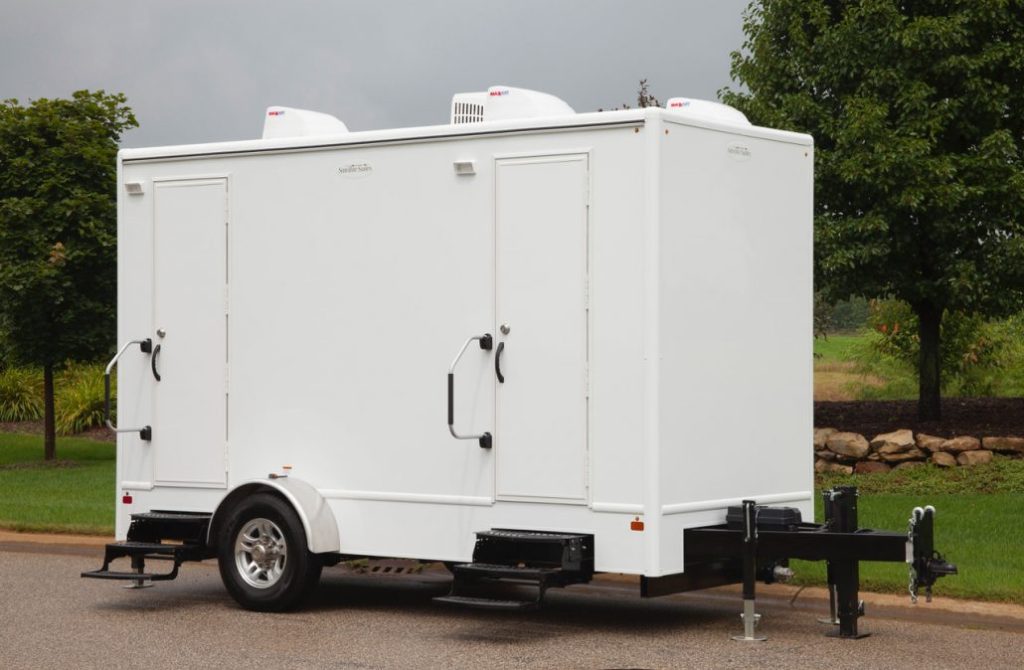 View Inside Our Trailers